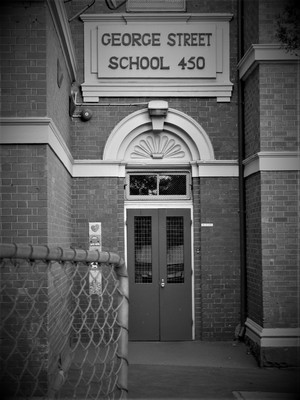 I must admit I am a dinosaur when it comes to talking or writing about the primary school I attended between 1958-64.
In those days my primary school was called George Street State located, of course, in George Street, Fitzroy.
It's now known as Fitzroy Primary School which sounds like a different school to me.
One of the many memories I have of George Street State is that I rarely used the front entrance. I'd weave my way from home in Brunswick Street, and either enter the school from Napier Street, behind the school, or through the side street entrance.
The only times I used the front entrance was to leave the school grounds to go to the milk bar to buy lunch, next to the school, or as a grade sixer occasionally fetch a cricket ball that was whacked over the fence and onto George Street.
Looking at the photo I can remember entering the front door and to my right was the head master's office and on the left was my bubs (prep) class.
Ah yes, good old George Street State, the name may have changed but my memories will forever stay with me.