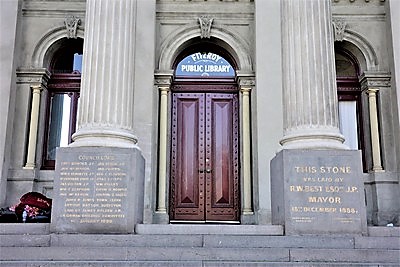 This was the Fitzroy library entrance as I knew it in the 1950s and 1960s . It is now located around the corner in Moor street.
The library, part of the Town Hall building, was a place I visited frequently when I was a kid. The huge doors felt like I was on the set of an ancient Roman sword fighting picture. I remember one of the doors opened during opening hours, leading to a passage way and into the library room itself.
Those were the days of stamped library slips glued to the back of a book noting the day it was to be returned when borrowed, There were narrow wooden trays, which would slide in and out. Each tray contained alphabetically listed details of a book, typed on a system card, revealing where it was located in the library.
The old library felt like a second home and I would spend a lot of time reading and wandering around staring at the 'old books' stacked in shelves against the walls.
Footnote: In the bottom left hand side of this photo I took recently are the belongings of a homeless person. Somethings never change – there were homeless people sleeping in doorways back in the old days.