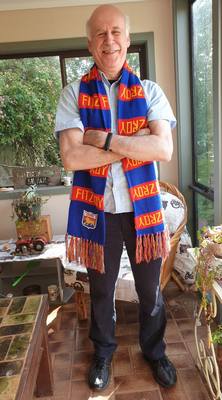 I discovered this footy scarf at my sister's place and couldn't resist trying it on.
Technically it's a Brisbane Lions scarf but to an old Fitzroy boy like me it still represents the Fitzroy Lions of my childhood.
The Fitzroy footy club played in the VFL and AFL leagues and was known as the Maroons (1883-1938) and the Gorillas (1938-1957). But I always knew the team as the Lions (1958-1996).
I can still remember the roar of the crowd on a Saturday afternoon when Fitzroy played at the Brunswick Street oval, a few blocks away from where I lived.
Fitzroy won seven premiership, the last one in 1944, and I waited several decades for the next premiership but that hope was dashed when they merged with Brisbane in the 1990s. Though the Brisbane Lions won three premierships, I never considered those as I was a Fitzroy tragic.
I never merged with Brisbane Lions. The Fitzroy the team did.
There are a few of us Fitzroy tragics still around and there still is hope for another premiership in the form of the Fitzroy Reds, formerly the University Reds. It was formed in 2009, and plays in the Victorian Amateur Football Association and it almost won a premiership in the D grade competition.
I was never a fanatical supporter of the Fitzroy Lions but I still miss them.
They disappeared just like my childhood.
Footnote: Carn the Roys translates to Come on Fitzroy and was used by supporters to encourage the team.