As an adult walking down Brunswick Street, Fitzroy and looking at the buildings around me I can see interesting examples of 19th Century architecture.
As a ten-year-old kid walking down Brunswick Street in the early 1960s these buildings represented a challenge. And that challenge was to figure out a way of climbing these buildings to explore the roof tops, with my mate John.

There were two reason why we had to explore roofs. It was exciting, because once you reached the summit you felt like you were on Mount Everest – on top the world. The other reason? Well, the challenge of not getting caught doing something naughty was worth the effort of having a go.
The garage roof in the lane way outside of John's place was easy and we'd often climb to the top by scaling bricks that jutted out from the wall.
One day we achieved the ultimate thrill by exploring several roofs at once. John and I climbed onto his roof, from his backyard, and then explored the roofs along Brunswick Street, between Argyle Street and Kerr Street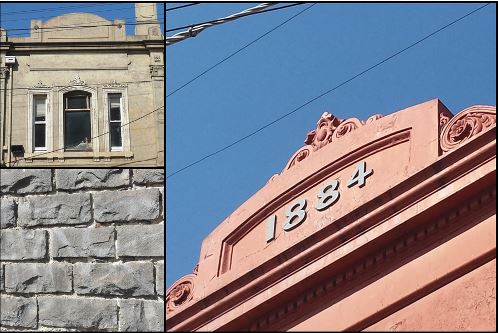 In old Fitzroy terms that's from Mr O'Brien's milk bar to Frank Dempsey's butcher shop.
I'm not sure what curtailed our roof climbing – it may have been because we got too old for kid's stuff.
Or perhaps it was curtailed when we got sprung one day and people in the nearby house yelled at us.