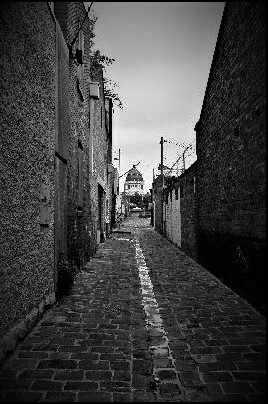 This blue stone cobbled lane way is one of the many lane ways scattered around Fitzroy.
As a kid I played cricket in our nearby lane way, used it as a short cut to get to my mate's place and as an escape route so as to avoid any ratbags that may have been lurking around.
The lane way in this photo is located in Fitzroy Street, near Gertrude Street.
If you walk along, and snake around another lane way you'll get to Nicholson Street, a main road, that divides the suburbs of Fitzroy and Carlton.
In the distance you can see part of the Royal Exhibition Building.
This photo was taken recently but it could very well have been taken in the 1950s and 1960s when I grew up in Fitzroy.
To me the blue stone cobble lane ways of Fitzroy are like time machines – they take me back to old Fitzroy in an instant.